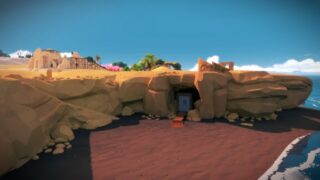 The Witness, the first-person puzzle exploration game from Braid creator Jonathan Blow, has a voice cast, Blow announced on the PlayStation Blog.
The voice cast will appear through recordings players find in the game, which "are done in a highly non-traditional way" and won't give you much in the way of answers. But if you keep looking, you'll eventually be able to piece together what's going on, according to Blow.
"I will warn you, though, that the story in The Witness, such as it is, is fairly subtle and happens mostly implicitly," Blow said. "You really have to explore and read between the lines to know what's going on. So do not expect a traditional game story like The Last of Us or The Order!"
The game's voice cast is as follows:
Ashley Johnson (Ellie from The Last of Us, Gortys from Tales from the Borderlands, Jenny from inFAMOUS: First Light)
Phil LaMarr (Vamp from Metal Gear Solid 2, Ratbag from Middle-earth: Shadow of Mordor, Hermes from Futurama)
Matthew Waterson (Sir Lucan from The Order: 1886, Virgil from Fallout 4, Captain Wallace from Halo 5: Guardians)
Terra Deva (A musician and Mickey Mouse Club veteran)
The Witness is due out for PlayStation 4 and PC on January 26.
View a new set of screenshots at the gallery.