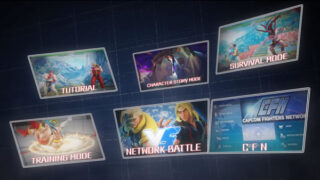 Capcom has released a new trailer for Street Fighter V detailing the fighting game's various game modes.
The introduced modes include:
Tutorial Mode – First time playing a fighting game? No worries. Street Fighter V comes with a tutorial mode. Take control of young Ryu, learn the basics of combat, and master Street Fighter V's distinct control methods.
Character Story Mode – Sixteen unique fighters, each with their own goals, destinies, and mysteries to unravel. Enjoy it all in the Character Story Mode. Clear each character's episode to make their story costume available in the shop. Save up Fight Money for that one you've got your eyes on.
Survival Mode – Survival Mode is the perfect mode to put your true skills to the test. See how many opponents you can defeat under a set of restrictions. Extra battle features also let you boost your EX Gauge and score in this mode. Aim for the high score. Clear Survival Mode to unlock new colors corresponding to your level.
Training Mode – Diligent practice is necessary to hone one's skills and techniques. Use this robust Training Mode to practice to your heart's content. And take advantage of handy shortcut commands. Using the touchpad, you can designate and refresh the character position on screen. Perfect for practicing those combos you can only perform in specific setups. There are many other shortcuts you can use as well. Remember, practice is key to elevating yourself above the competition.
Network Battle – View for Online Ranking Points in Ranked Matches, or enjoy pressure-free Casual Matches. You can watit for matches on the Menu screen, or even in Training Mode and Story Mode.
CFN – The Capcom Fighters Network connects players with one another. See who's online via a global heat map and watch the battles unfold worldwide. Search for specific players with rival search. Keep your opponent's battle stats at your fingertips with Fighters' Profiles. View replays to discover new strategies and ways to fight.
More modes and features will be added to the game for free post-launch.
Street Fighter V will launch for PlayStation 4 and PC on February 16.
Watch the trailer below.
https://www.youtube.com/watch?v=kr60NVYqH_A