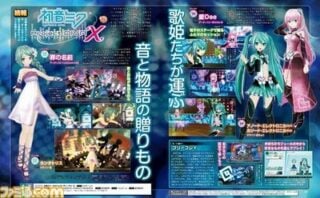 The latest issue of Weekly Famitsu confirms new songs and modules set to appear in Hatsune Miku: Project DIVA X.
Get the information below.
New Songs

"Tsumi no Namae" by ryo (supercell)
"Ai Dee" by Michie M
"Akahitoha" by KuroUsa P
"Hajimete no Oto" by Malo (from Hatsune Miku: Project DIVA F 2nd)
"Cool Medley" including "Unhappy Refrain," "Mairisudame!," "Tengaku," "Palette," and "Kono Fuzaketa Subarashiki Sekai wa, Boku no Tame ni Aru"

New Modules

"Countress" (Yuu)
"Anode Electronica"
"Cathode Electronica" (Fuzi Choco)
"Izayoi" (Ichiyou Moka)
"Rockin' Stone," "Dominant Stone," "Burning Stone," "Lightning Stone," "Majestic Stone," and "Wise Stone" (Nidy 2D)
Hatsune Miku: Project DIVA X will launch for PS Vita on March 24 in Japan and for PlayStation 4 in fall 2016.
Thanks, Hachima Kikou, Famitsu.