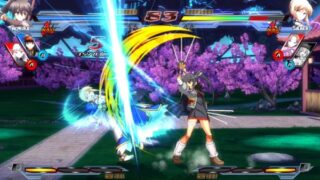 Marvelous is bringing Nitroplus Blasterz: Heroines Infinite Duel to PlayStation 4 and PlayStation 3 in Europe in early 2016.
The fighting game is available for pre-order on Marvelous' website in both standard and "Lethal Blaze" editions. The retail version is exclusive to PlayStation 4.
In North America, XSEED Games will release the title in early 2016, as well.
Get the announcement trailer and fact sheet below.
Overview

Nitroplus Blasterz: Heroines Infinite Duel, already an arcade favorite and eagerly anticipated by fighting game fans, features a host of heroines from Nitroplus' expansive and prolific character catalogue.

Players select a main character – including Super Sonico, who will be playable for the first time in this console release – along with two partner characters from an array of Nitroplus-related products.

Between the easy-to-execute combos, cinematic cut-ins on "Lethal Blaze" attacks that run the gamut from awe-inspiring to adorable, and assist mechanics that allow for up to six onscreen characters at a time, the development team at Examu – best known for their work on the popular Arcana Heart series – ensures that combat stays fast and flashy.

Once players master the basics, they can see how their skills stack up online against other network players, with full cross-play on offer between PlayStation 4 and PlayStation 3 users.

While the PS3 version of the game is exclusive to PSN, the PS4 version will be available both physically and digitally – the physical version coming packaged with a set of five unique art cards.

A strictly limited special edition adds a High Quality Print T-Shirt featuring Super Sonico. Both editions are available to pre-order at www.marvelousgames.com and will also be sold via Amazon, our exclusive retail partner for the title.

Features

Unleash incredible 'Lethal Blaze' attacks and overwhelm the opposition! – From the accessible 'Partner Blitz' mechanic, allowing up to six characters on-screen at a time during certain moments, to the spectacular varied combos, to the explosive cinematic flare of 'Lethal Blaze' attacks, the development team at Examu has ensured that combat is both flashy and ostentatious.
Diverse and Wide-Ranging Selection of Characters – Featuring 12 default playable characters and 2 more as DLC, with such iconic personalities as Nitroplus' Super Sonico, and 20 Partner Characters featuring other iconic characters such as Akane from Psycho-Pass and Carol from Guilty Crown: Lost Christmas, there are near limitless choices for a customizable team of heroine fighters to play.
Cross-Platform Play! – Since gamers can cross-platform play between both PS3™ and PS4™ versions, players can rest assured that regardless of what version of Nitroplus Blasterz: Heroines Infinite Duel they pick up, a whole host of online opponents of varied skill will await on the online battlefield!
Powerful and Dynamic Soundtrack! – The soundtrack of Nitroplus Blasterz: Heroines Infinite Duel accompanies the combat with fast-paced, high-octane tracks that make each fight extra exciting! Players can also use Super Sonico as a partner to summon her band and change the track's dynamics!