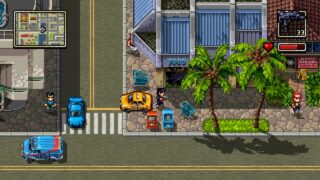 Retro City Rampage developer Vblank Entertainment has announced Shakedown: Hawaii, a new open world adventure coming to PlayStation 4, PS Vita, 3DS, and PC via Steam.
Whereas Retro City Rampage was set in the 8-bit era, Shakdown: Hawaii is set in the 16-bit era, and features destructible environments and powerful weapons. It's set some 30 years after the events of Retro City Rampage and follows the player as he comes out of early retirement to rebuild his neglected corporate empire.
Shakedown: Hawaii will be playable at PlayStation Experience in San Francisco from December 5 to 6.
Watch the debut trailer below. View the first screenshots at the gallery.