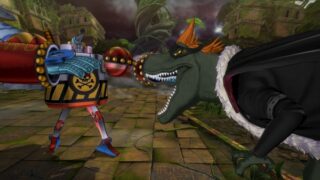 Following X. Drake and Franky's Weekly Jump reveal, Bandai Namco has officially announced X. Drake, Franky, Roronoa, Zoro, and Aokiji will be playable in One Piece: Burning Blood.
One Piece: Burning Blood features an "advanced battle system" that replicates Devil Fruit abilities and Haki techniques a free-for-all battle. Players can activate these abilities at will to increase their attack power, nullify incoming normal attacks, and more.
The game is due out in 2016 for PlayStation 4, Xbox One, and PC.
View a new set of screenshots at the gallery.