NieR: Automata leads discuss main characters, gender, skirt destruction, and more
New details from Dengeki Online and Famitsu interviews.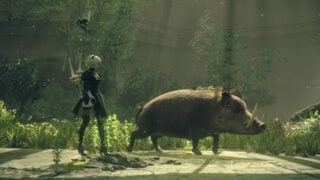 New details on NieR: Automata have come out via Dengeki Online and Famitsu interviews with director Yoko Taro and producer Yosuke Saito.
If you missed last weeks's gameplay trailer, catch it here.
Get the new information below.
YoRHa 2B is one of the main characters. (Question: How many main characters are there?) Saito: "There are really only two 'true protagonists.'" Yoko: "I get the feeling that there are three."
(Question: What's YoRHa 2B's gender?) Saito: "She's a female-type, right?" Yoko: "It's a secret."
(Question: What's the reason behind making her a female-type?) Yoko: "Because I like girls." Saito: "[Character designer] Akihiko Yoshida ordered 'a costume with a definite quality for cosplay.'"
(Question: Other than YoRHa, what other squadrons are there?) Yoko: "Other squadrons exist, but do not appear during the game. Androids that do not belong to a certain squadron will appear aplenty."
(Question: Are those Androids differentiated by gender?) Yoko: "Their genders are secret, but there are both males and females." "Each Android has different functionalities."
(Question: What's the meaning behind the YorHA squadron's name?) Yoko: "No meaning, particularly. The kanji is '寄葉' (approach, leaf), but there is no particular meaning behind this."
Only the Androids go to war to recapture the Earth. Humans will not participate.
There is still a large number of unannounced weapons. (Question: About how many?) Yoko: "A nice amount."
YoRHa 2B has a "Pod" device that travels alongside her, which will take charge of long-range attacks while the player concentrates on short-range attacks. The Pod can also be used as a glider to get from one side of a stage to another. The Pod can speak, but is not verbose. It has a car navigation-like systematic way of speaking. It doesn't have emotions.
Pod customization is an idea they currently have, but they're not sure if it'll be there in the final game.
Costume downloadable content for YoRHa 2B is a possibility.
When YoRHa 2B receives a certain amount of damage, her skirt will rip. Underneath, she wears a white leotard.
While machine life-forms might have the same base, their parts, color, and textures are all different, they might be riding on vehicles, etc. There is a significant amount of variation.
In the trailer, there was a biggish machine life-form that appeared who's not a boss, but rather a "somewhat strong Zako." Its size is also relatively small compared to the unbelievably huge machine life-forms that will appear in the game.
(Question: Can you ride the boar that appears in the screenshots?) Yoko: "Someone at PlatinumGames said that they want to be able to ride a boar."
A deer-like creature will also appear. It might be ridable.
NieR: Automata is set in the same world as NieR, in a different era, but there is little story connection. Square Enix wanted to prevent users who haven't played the original NieR from not being able to enjoy NieR: Automata. But if you have played NieR, there will be some characters and events that reference the first game.
Yoko: "Although PlatinumGames is known for their high take on action, I want everyone to be able to enjoy and everyone to be able to play this, so we'll be making adjustments accordingly."
Saito: "When I first saw Yoko's plot, since it has such a wonderfully happy ending, I was a bit worried if having such a happy ending would be okay, but it is a good story."
Yoko: "Development is going well, but because of the amount of resources, I don't really know everything that's happening." Saito: "Since the development team consists of young people with a 'let's do it all' attitude, our old men hearts are pounding."
More information is due out around the spring. The information will likely come from Japan next (this time it came during Paris Games Week).
Thanks, Games Talk.