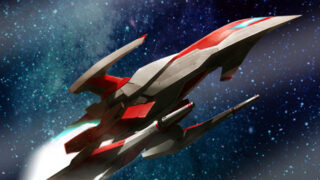 Dariusburst: Chronicle Saviours will launch for PlayStation 4 and PS Vita on November 30, and PC via Steam on December 3, publisher Degica announced.
The latest entry in Taito's shoot-em-up arcade series, Dariusburst: Chronicles Saviours offers a new story mode with "hundreds of stages covering Darius history," over 3,000 stages to unlock in "AC Chronicle Mode," nine playable ships, branching stages, and more. Catch a trailer here.
In Japan, the game is due out before the end of the year digitally, and physically for PS Vita on January 14.
Get the full rundown below. Visit the official website here.
About

Dariusburst: Chronicle Saviours is the latest installment in Taito's Darius series of arcade-style shooting games. Choose your ship, make sashimi out of hordes of alien sea-monsters, blaze your own trail through hundreds of branching environments, and enjoy a soundtrack by Taito's long-running, avant-garde house band, Zuntata.

General Features

Brand-new story mode with hundreds of stages covering Darius history
Add your efforts to those of global players, unlocking 3000+ stages in AC Chronicle mode
9 playable ships to choose from including classic Silver Hawk variants, a new CS-exclusive ship, and gameplay-changing Burst modes
Branching stages where you choose your own path and challenge level
Multi-monitor support for classic arcade DARIUS super-wide-screen action (Steam exclusive)
Over 40 enormous, robotic sea-monster battleships (including new Chronicle Saviours-exclusive bosses)
Haunting and memorable Zuntata soundtrack from classic tracks to new compositions
From huge arcade machine to your Steam, PS4, and Vita systems

PS4 Version Features

Up to 4-player local simultaneous cooperative play
Darius Odyssey, a digital art book (Note: book text is in Japanese.)
Cross-Save support with the Vita version
Your DualShock 4 controller will light up with your ship's color (EXCLUSIVE)
Trophies & leaderboard, shared with the PS Vita version

PS Vita Version Features

1-player only
Cross-Save support with the PS4 version
Trophies & leaderboard, shared with the PS4 Version

Steam Version Features

Up to 4-player local simultaneous cooperative play
Steam achievements, leaderboard, cloud save.
Dual monitor support (EXCLUSIVE)