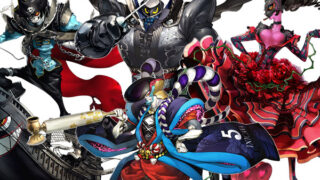 Atlus has updated the official Persona 5 website with artwork of the game's newly confirmed Personas and a few updated character descriptions, including one for new character Yusuke Kitagawa.
Get the details below.
The Protagonist (voiced by Jun Fukuyama)

The leader of the Phantom Thieves. A 16-year-old young man and second-year high school student who transfers to Shujin High School. He seems quiet and well-mannered at first glance, but gives a completely different impression once he has donned his "phantom thief" guise. He finds residence at a cafe run by his parents' friend. The reason for him moving from the city to the capital Tokyo is currently unknown.

Persona: Arsene

The protagonist's starting Persona. His face looks like a mask and he has giant black wings. Speaking of the name Arsene, people might often think of the famous thief Arsene Lupin, but where did this Persona really come from and what kind of power is hidden within him?

Ryuji Sakamoto (voiced by Mamoru Miyano)

Just like the protagonist, he is a 16-year-old, second-year student at Shujin High School. He stands out with his wild behavior and seems to be a "problem child" even within the school. More than often, his problematic behavior imposes on the hospitality of the school's teachers and advisers. There seems to be an incident that caused his bad behavior, but… He meets the protagonist, who changed schools, and his Persona awakens in the wake of a certain event.

Persona: Captain Kidd

Ryuji's starting Persona. He has a skull head and a cannon-like arm, and rides a giant black pirate ship. He has the same name as the famous pirate known for his repeated looting, but…

Anne Takamaki (voiced by Nana Mizuki)

A 16-year-old, quarter-American, second-year student who attends Shujin High School. Unable to fit in with those around her due to her noticeably different appearance, she isolates herself within the school. For that reason, she chooses her close friends within the school very carefully. She is often seen hanging out with the protagonist and Ryuji Sakamoto. Strange rumors about her have seemingly been circulating the school, but whether or not they're true is currently unknown. She meets the protagonist, and her Persona awakens in the wake of a certain event.

Persona: Carmen

Anne's starting Persona. She is a beautiful Persona who wears a bright red, flamenco-style dress. She has a powerful stature, wielding heart-faced men attached to vines in her hands. She is reminiscent of the freewheeling and passionate woman of the same name who appeared in novels and operas, but…

Morgana (voiced by Ikue Otani)

A mysterious black cat that the protagonist and Ryuji help by chance in the Palace of a different world. After that, she lives with the protagonist, sharing both his food and bed. She can talk like a human, as well as seemingly transform into a number of different forms, but her existence is shrouded in many mysteries. She tends to throw around violent language, but is also a devoted member of the Phantom Thieves. Her favorite phrase is, "Don't call me a cat!"

Persona: Zorro

Morgana's starting Persona. He is a swordsman Persona who wears a mask to hide his identity and dresses like a gentleman. His trademark is the "Z" he wears on his belt. As a swordsman, he bears close resemblence to the famous thief Zorro.

Yusuke Kitagawa (voiced by Tomokazu Sugita)

An art program scholarship student that attends Kousei Public High School. He's an eye-catching, handsome young man, but because of his unique sensitivity, gives off the impression of someone other-worldly. His mother passed away when he was young and he became an orphan. As was expected of his artistic talent, he became a live-in disciple of his Japanese painter landlord Madarame. He admires Madarame and spends his days committed to painting. His Persona awakens in the wake of a certain event.

Persona: Goemon

Yusuke's starting Persona. He's an eye-catching Persona who wears a flashy, oriental-style outfit. He has a giant pipe, refined pose, and a kabuki-style face. He is reminiscent of the Japanese outlaw thief Ishikawa Goemon.
In addition to the character and Persona artworks and descriptions, Famitsu has published online its interview with Persona 5 director Katsura Hashino from last week's issue of Weekly Famitsu, providing three new direct-feed screenshots.
Persona 5 is due out for PlayStation 4 and PlayStation 3 in summer 2016.
View the PNG versions of the character and Persona artworks at the gallery.