NieR: Automata story, protagonist detailed
More details due out at Paris Games Week tomorrow.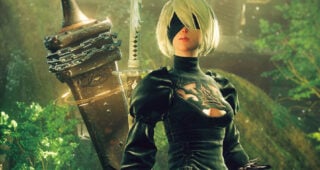 The latest issues of Famitsu and Dengeki PlayStation have first details and screenshots on NieR: Automata, Square Enix's upcoming sequel to NieR from PlatinumGames.
While more information is due out tomorrow via Square Enix's Paris Games Week presentation of the game at 11:00 a.m. France time (3:00 a.m. PT / 6:00 a.m. ET), get what we know from the magazines below.
Story

The distant future.

Aliens suddenly invaded. And they dispatched weapons known as "Machine Life-Forms." Before their overwhelming power, humanity fled to the moon.

In order to recapture Earth, mankind organized a resistance of combat-type android soldiers. Then to break the deadlock, mankind introduced the "Yorha" unit, new types of advanced android soldiers.

In the barren stretches of a land where humans do not exist, the Machine Life-Forms and Androids battle. This war is the key that opens the door to an unknown truth…

Yorha 2B

A combat android dispatched as a member of the infantry. Although she has the appearance of a woman, her actual gender is unknown. She mainly uses short-range sword attacks, with long-range "pod" attacks for support. Because she always wears goggles, little of her face is shown. What really lies beneath them?

Androids

Combat androids created by humanity after fleeing to the moon by the invasion of aliens. The "Yorha" android units have no names, but are rather referred to by their identification numbers. They are prohibited to feel emotion, but each model has their differences. Yorha 2B, for example, appears calm and composed.

Machine Life-Forms

The autonomous machine life-forms that invaded earth. They're called this because they have the ability to repair and restore themselves, or possibly create new machines. No one knows how powerful they are. However, they are powerful enough to have caused mankind to flee Earth.
NieR: Automata is still to be dated.
Update 10/29/15 at 10:00 a.m.: Find Square Enix's official descriptions here.