Yo-kai Watch Dance launches December 5 in Japan
Inaho and USApyon also set to appear.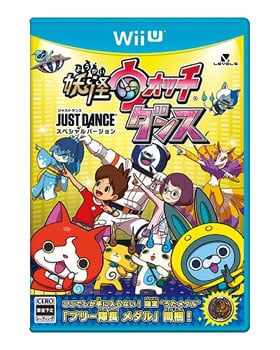 Yo-kai Watch Dance: Just Dance Special Version will launch for Wii U in Japan on December 5 for 4,662 yen, Level-5 announced.
All copies of the game will include a "Captain Bully Song Medal." The Wii U GamePad will be able to read the QR code on the back of it. More details are promised in a follow-up report.
The game will also be available in a "Wii Remote Plus Set" for 7,236 yen.
A collaboration with Ubisoft's Just Dance series, Yo-kai Watch Dance features a number of Yo-kai Watch songs, including "Gera Gera Po no Uta," "Yo-kai Taisou Daiichi," "Uchuu Dance!," and "Jinsei Dramatic." Dancers will appear dressed as Yo-kai Watch characters, and familiar Yo-kai will also join them. New Yo-kai Watch heroine Inaho and her partner Yo-kai USApyon will also appear.
View a new set of images at the gallery.