Tokyo Xanadu screenshots introduce mini-games, Morimiya Memorial Park
Stroll through the park and stop off for a crepe.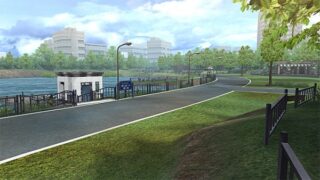 Falcom has released a new set of Tokyo Xanadu screenshots introducing the action RPG's recently confirmed mini-games, as well as a new area.
Get the details below.
■ Places

Morimiya Memorial Park

A memorial park abundant with nature located in the western part of Morimiya City. There is a large lake in the center and it is surrounded by a strolling footpath. Along with a running course and date spot, it's a place of relaxation the city's people. There is an open cafe and a nearby crepe stand where you can pick up a drink or light snack as well. Also within the park is a skate park with a skateboard course that is often seen bustling with young people.

■ Mini-Games

Skateboarding

While controlling the main character Kou, players can play a skateboarding mini-game with dedicated courses. The mini-game tasks players with recovering flags on the course within the time limit, and there is point in the course called the trick area with "gimmicks" you have to clear to finish the course. Clearing the course might earn you premium prizes.

Gate of Avalon

A one-versus-one card game based on the "Blade" mini-game that debuted in The Legend of Heroes: Trails of Cold Steel. This time, non-party member city dwellers appear as your opponents. Protagonist Kou starts at Level 1, but by defeating opponents his level will rise and he can battle higher ranked players. But what kind of opponent lies in wait at the end?

Michy Panic with Magical Girl Magical Alisa

A limited collaboration version of the evil Michy whacking game "Michy Panic" with the TV anime "Magical Girl: Magical Alisa." You'll control Alisa and exterminate the evil Michys coming out of the ground with your PicoPico Hammer. You'll earn a bonus rank based on the score you earn within the time limit. Based on your rank, the rate of reward medals you receive will increase. Aim for the highest score to earn rare items only obtained by exchanging medals.
Tokyo Xanadu is due out for PS Vita in Japan on September 30.
View the screenshots at the gallery.