SaGa: Scarlet Grace has five-character battles
Series creator teases glimpse of the game.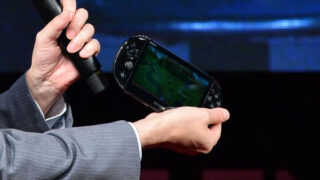 SaGa series creator Akitoshi Kawazu showed up at the Square Enix composer talk show at the Tokyo Game Show today to tease the upcoming SaGa: Scarlet Grace for PS Vita.
Specifically, Kawazu brought with him an actual PS Vita with the game running, showcasing just a glimpse of the screen to the audience (pictured). Kawazu confirmed that battles will have five party members.
SaGa: Scarlet Grace is due out for PS Vita in Japan in 2016.
Watch the Tokyo Game Show trailer here.
Thanks, Famitsu.