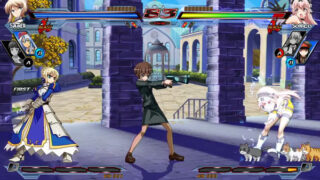 Following the Nitroplus Blasterz: Heroines Infinite Duel short gameplay clips of Ein, Al, Ignis, and Mora last month, Marvelous has released 17 more short gameplay videos, largely focused on the fighting game's partner characters.
Nitroplus Blasterz features characters from various Nitroplus games. The console version will also feature additional characters Aino Heart (Arcana Heart 3: Love Max Six Stars), Homura (Senran Kagura: Estival Versus), and Sonico (Super Sonico).
The game is due out on December 10 in Japan and this winter in North America, via XSEED Games.
Watch the new footage below.
Playable Characters

Partner Characters