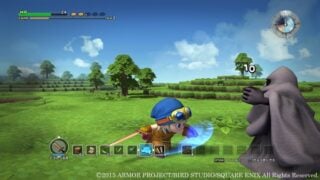 Square Enix has released a new set of Dragon Quest Builders information and screenshots, detailing the block-making RPGs three main elements: collection, creation, and construction.
Get the information below.
■ The Three C's

Dragon Quest Builders is a "block-making RPG," the first of its kind. In it, everything you see can be made into raw materials, which you can use to make a variety of items, and demolish, build, and remodel towns. It is a sandbox-style game where players can act on their own accord, while at the same time possessing the story and RPG elements that the Dragon Quest series is known for.

In order to revive a desolated world and the towns once home to the people, the game's protagonist must use his special power to rebuild. Three elements will be required to do this:

Collection

You'll need materials in order to build, which you can collect by breaking terrain or defeating monsters.

Creation

Some of the materials you acquire will be ready to use from the get-go, but by applying some additional treatment, you can create entirely new items.

Construction

With your created items in hand, you can start constructing buildings.

■ Blueprints

Items known as a "Blueprints" let anyone put together a building easily according to what's outlined in the design. Of course, you're not limited to Blueprints—you can also freely create buildings to your own liking.

■ Monsters

In the world ruled by the Dragonlord, a number of monsters are wandering the field. Monsters that appeared in Dragon Quest I will appear, of course, but so will monsters from across the series. This includes Slimes, Ghosts, Bunicorns, and so on. Monsters might also try to prevent your reconstruction of a town through monster raids.
Dragon Quest Builders will launch for PlayStation 4, PlayStation 3, and PS Vita in Japan on January 28. If you missed the opening movie, catch it here. Watch 18 minutes of gameplay here.
View the new screenshots at the gallery.