New 'Granzella' title, Gundam: Extreme VS Force, and Kamen Rider: Battride War leaked
Plus, more Bandai Namco TGS lineup confirmations.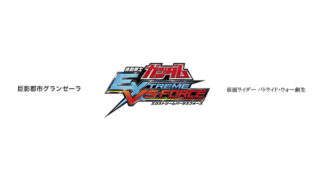 Bandai Namco will publish a new game from Granzella, which owns the Disaster Report IP, called Giant Shadow City, or Kyoei Toshi, if an image discovered on the company's official Tokyo Game Show website is to go by.
In Japan, the Disaster Report IP is known as Zettai Zetsumei Toshi. Granzella has previously confirmed it's working on Disaster Report 4, which it plans to debut this fall. It is unknown if this new title is related.
The company's Tokyo Game Show website opened this morning. Gematsu discovered a number of images featuring games not yet confirmed for a Tokyo Game Show appearance, as well as new games entirely.
Joining the Granzella game, which is simply listed as "Kyoei Toshi Granzella," is the next iteration in the Mobile Suit Gundam: Extreme VS series called Mobile Suit Gundam: Extreme VS Force, as well as a new Kamen Rider: Battride War game.
Additionally, the images reveal that The Asterisk War, Crows: Burning Edge, Girl Friend Beta, The Idolmaster: Must Songs, The Idolmaster for PS4, Summon Night 6, and Tales of Asteria will be front and center at the Tokyo Game Show.
Find the full list of leaks below.
Console
In case they're removed, here's an Imgur gallery with the images.