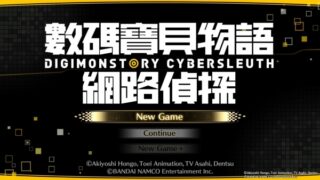 Before it comes to North America and Europe in 2016, Bandai Namco will release the PlayStation 4 version (and PS Vita version) of Digimon Story: Cyber Sleuth in Taiwan with traditional Chinese subtitles and menus and Japanese voice-overs this fall, the publisher's Asia branch announced.
The announcement reveals three new improvements to the PlayStation 4 version: difficulty settings, a "New Game Plus" mode, and cross-save functionality with the PS Vita version. (Update: The PS Vita version will also have these new features, Bandai Namco told us.)
First-print copies of the traditional Chinese version will include the following content:
Black Agumon and Black Gabumon download code
Digimon Story: Cyber Sleuth custom PS Vita themes download code
Protagonist-costumed Agumon download code
Add-on story starring Digimon World Dusk heroine
Masafumi Takada selections soundtrack
View the first screenshots from the traditional Chinese version at the gallery.