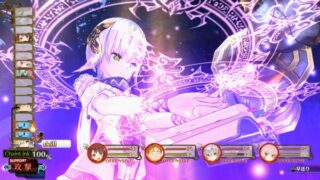 This week's Atelier Sophie: The Alchemist of the Mysterious Book update shares more details on the new characters and Chain Link system introduced in this week's Dengeki PlayStation, as well as Plachta in battle.
Get the information below.
■ Plachta In Battle

By filling in recipes, Plachta will gradually regain her memories. One day, she remembered the past. She once battled against something. However, she can't remember what she was fighting or why she was fighting it.

With the uneasiness of her memories, Plachta joins Sophie to aid her in battle, using the "Drive Machine Soldier" she uses for alchemy in battle.

As an alchemist, Plachta can use a variety of items in battle. Plachta herself is not very strong, but her weapon is, producing a variety of skills like emitting lasers. Plachta can also use magic-like skills using the book she carries.

■ Chain Link

Chain Links are support co-op attacks that become available by strengthening the links between your party members. There are a variety of co-op support attacks, including offensive co-op attacks that deal a great amount of damage, and co-op defensive that minimize the amount of damage taken from hits.

Take the Same Stance – To perform a Chain Link, you must select the same stance. The character's stance (Offensive or Defensive) appears under their health and magic points.
Build Up your Co-Op Gauge – The gauge in the lower left of the screen will accumulate, which enables your Chain Links. Your gauge builds by attacking monsters, and using items and skills, but decreases slightly when you're attacked.

A Variety of Chain Links

Offense Act – Put two characters in the offensive stance, and when the gauge reaches a certain level, you can perform this co-op attack. It's more powerful than the usual support attack.
Special Attack – Put all characters in the offensive stance and when the gauge reaches its maximum level, you can perform this three-person co-op attack, complete with a cut-in scene.
Defense Act – Put all characters in the defensive stance and when the gauge reaches a certain level, you can perform this co-op defensive. It not only reduces the amount of damage you take, but recovers HP.
Special Guard – Put all members in the defensive stance, and when the gauge reaches its maximum level, you can perform this co-op defensive. It springs forth a field that recovers HP for the entire battle area. (We're assuming this is just for allies.)

■ Sophie's Latest Companions

Sophie's latest companions are introduced below.

Julio Sebald Leidenschaft (voiced by Genki Ohkawa)

19 years-old. 177cm tall. Knight.

A young knight who came from the neighboring country of Adarett. He has a soft and eloquent demeanor, and his personality is the very picture of sincerity. He is looking into alchemy as a result of certain circumstances, and visits Sophie. He wields a great sword and is highly capable in combat.

Fritz Weissberg (voiced by Kenyu Horiuchi)

51 years-old. 171cm tall. Doll maker.

A former mercenary that now travels around performing puppet shows. He's usually calm and settled, but is completely different when it comes to his puppets. He's a dependable person that would not hesitate to help those in trouble. He utilizes dual swords in battle, and is weak when it comes to item use. From his former days as a mercenary, he's highly experienced with a sword.

Leon (voiced by Mayumi Iizuka)

24 years-old. 168cm tall. Tailor.

A self-proclaimed traveling tailor who visits the town by chance. She has the utmost confidence in her work and is good at what she does. Her attitude might make it seem like she pushes others away, but in reality she's just bad at expressing her own feelings. Her weapon is a spear, and she can make use of jamming items.
Atelier Sophie: The Alchemist of the Mysterious Book is due out for PlayStation 4, PlayStation 3, and PS Vita in Japan on September 25.
View the screenshots at the gallery.