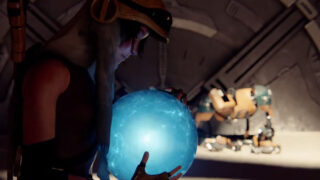 ReCore, Keiji Inafune and Aramture Studio's E3-announced Xbox One game that puts players in the role of one of the last remaining humans as she forges friendship with robot companions, might be coming to PC as well as Xbox One.
Bobby Pavlock, a senior/priniciple designer on ReCore, lists the game for both Xbox One and PC in his online portfolio. His resume also lists the game as "Xbox One, PC."
Furthermore, the LinkedIn resume of Armature Studio software engineer Thomas Keene mentions that Keene "trained engineers, artists, and designers in the use of the Unity 3D engine for the content pipeline of a video game for the Xbox One and PC." Unless Armature has a second Xbox One game in production, it could only be ReCore.
Kudo Tsunoda, who leads Microsoft Game Studios, previously said allowing users to play games "wherever they want, on whatever device they choose, and making that easy" is one of Microsoft's long-term goal's for the Xbox ecosystem, so seeing ReCore come to PC in addition to Xbox One shouldn't be too surprising.
ReCore is currently announced as due out for Xbox One in spring 2016.
Thanks, NeoGAF.