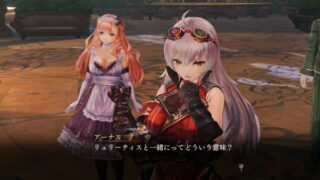 This week's update on Gust's upcoming action RPG Yoru no Nai Kuni introduces the basic game flow, a new transformation for main character Arnas, more subordinate demons, and two new characters.
Get the details below.
■ The Daily Fight Against Jayou

To collect information, Arnas must battle jayou. Using the Ende hotel as her base to make preparations before battle, all is vital in order to protect Lyuritis. By defeating jayou and collecting information, the scrolls of the story will untie.

■ 1) The Curia's Orders

In order to protect Lyuritis, the chosen saint of the current era destined to seal away the Ruler of the Night in exchange for her life, Arnas is looking for a solution other than Lyuritis' sacrifice. As she follows her orders from the Curia, information related to the Ruler of the Night will drop in.

■ 2) Fight Alongside Your Subordinate Demons and Press for the Truth

To carry out the orders of the Curia, and to obtain information and clues to protect Lyuritis, Arnas continues to fight jayou. By doing this, Arnas will grow and the story will advance. For one mission, Arnas is tasked with looking for a hotel guest and assistant sent out to collect information for her who's gone missing. During this mission, Arnas will need to bypass traps and collect clues before eventually reaching a giant jayou. In order to protect the assistant and receive the information he obtained, Arnas and her subordinate demons must defeat it.

■ 3) Do Various Things at the Ende Hotel

After your battles against jayou, you can rest at the Ende Hotel. Your subordinate demons also live here, and in addition to getting a glimpse of their everyday lives, you'll be able to organize them and such.

A New Contract: "Actualize"

By using "Yorishiro," objects representative of a spirit, you can form a new contract with a subordinate demon. Depending on the type of Yorishiro you use, the subordinate demon you contract will be different.

Yorde Altar

You can go to the Yorde Altar from the hotel where you can talk to the Yorde shrine maiden and use blood to further grow Arnas.

Daytime Actions

Arnas can only do battle against jayou at night. But by selecting the actions she takes during the day, you can get skill points to learn new skills.

Arena

At the Arena, Arnas and her subordinate demons can put their skills to the test. As you progress through the story, the contents of the arena will continue to increase.

Buying and Selling

You can buy and sell items from the Ende Hotel, which deals with various items related to subordinate demons. As you progress through the story, you'll be able to put in orders for rare items from faraway regions.

Requests

You'll receive a variety of day and night requests at the hotel. Although their contents mainly involve the subjugation of jayou, there are also some unusual requests. Clearing these requests will earn the player rewards, such as money or items.

■ Phantom Transformation

Arnas' latest transformation is the "Phantom Form." This magician-looking transformation is a support form that specializes in long-range attacks, as well as HP and SP recovery.

■ Subordinate Demons

Promi (Magic Type)

A magic type with many fire-based techniques. When it idenifies the enemy's weakness, it can exhibit unequaled strength. Despite its classification as a magic type, there are times when it thrusts itself into enemies, and it has a curious personality.

Mine Bomber (Flattery Type)

A flattery type that moves while rotating around Arnas. When its HP runs out, it goes out with a showy self-destruction. It appears it's been through some intensive training as not to instantly explode. His motto is "Safety First."

Ifrita (Support Type)

A subordinate demon that produces fields to enhance the status of its allies. She comes from the same race as Gnomid (another subordinate demon) and has an older sister-like personality.

■ New Characters

Lloyd (voiced by Satoshi Hino)

A traveling merchant who comes to the Ende Hotel. He's a money-hungry realist who puts a price even on jayou. He often gives Arnas requests, but it's all for his own benefit. He is often disgusted.

He knows a lot about jayou and the Curia, and seemingly has another side to him other than a merchant. There is a coffee faction, and Lloyd is always getting into pointless arguments with Professor Arukado because he doesn't fit the tea lover personality.

Mistral (voiced by Eriko Matsui)

A stylish and voluptuous purebred youma that lives in the palace. She emits a sweet fragrance that confuses those who come through. Although she came to the island seeking the soul of the Ruler of the Night, she's since secluded herself in the palace. It is said she sometimes goes out in search of something, but further details are unknown.
Yoru no Nai Kuni is due out on August 27 in Japan.
View a new set of screenshots at the gallery.