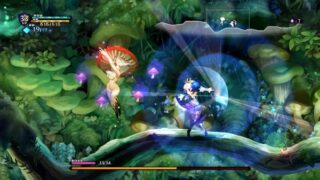 Famitsu this week has an interview with Odin Sphere: Leifthrasir director Kentaro Ohnishi, who discusses the improvements in the newly announced HD remake.
Get the tidbits below.
Regarding recreation…

Ohnishi: "While we loved Odin Sphere, it's a game that received some critical feedback. It was made as a successor to Princess Crown, but the result was something that betrayed the original form.

"Because we released it with slowdowns and such, we couldn't just do a simple HD-ification.

"We didn't want to seem like we thought, 'sure enough it's an old title, so,'—so instead thought we should rebuild it all again as we would a new VanillaWare game.

"But on the other hand, since I'm sure we'll have players that value the original version, we have the completely preserved original version included in HD [via Classic Mode]. We decided to make it a double-feature."

Regarding new mechanics…

"We're putting in mid-boss monsters not included in the original version. They're called mid-bosses, but they're more splendidly made than the old bosses. And enemies from the original game have a new thought logic to them, so you can play it with a fresh sense.

"The controls have a Dragon's Crown and Muramasa-like familiarity and easier sense of control to them."
Elsewhere in Famitsu's coverage, cross-save is also confirmed.
Odin Sphere: Leifthrasir is due out for PlayStation 4, PlayStation 3, and PS Vita in Japan on January 14.
Thanks, Hachima Kikou.