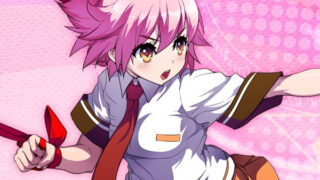 Nitroplus Blasterz: Heroines Infinite Duel will launch for PlayStation 4 and PlayStation 3 in Japan on December 10, this week's Famitsu reveals. The standard edition will cost 6,990 yen, while a limited edition will cost 12,160 yen.
The limited edition includes a special box, 3D crystal art, original soundtrack CD, art book, and swimsuit product code.
First-print copies of the game include a product code to enable Heart Aino (Arcana Heart 3: Love Max Six Stars) and Homura (Senran Kagura) as playable characters.
Pre-orders include "Marvelous Colors" for every character, as well as a wallpaper for PlayStation 4, PlayStation 3, PC, and smartphones.
Nitroplus Blasterz is due out in North America this winter.
Thanks, Hachima Kikou.