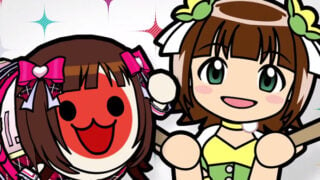 Bandai Namco debuted the first trailer for the PlayStation 4 Idolmaster game during the Idolmaster "Masters of Idol World 2015" 10th anniversary live event.
In the video, Haruka Amami is shown visiting some sort of training camp. Additionally, you can also hear remarks from Ritsuko Akizuki, Yayoi Takatsuki, and Miki Hoshii. The screen reads, "At last, the stage moves to PlayStation 4." Character modeling has been upgraded to take advantage of PlayStation 4, and movements are smoother.
There are no plans to release the video online in the future, as it was only intended to show the audience the game's progress, but given this development, we can hopefully expect more follow-up reports in the near future.
In addition to this, Bandai Namco announced The Idolmaster: Must Songs Red Board and Blue Board for PS Vita. This is a Taiko Drum Master collaboration game featuring songs like "Ai Must Go," "Ready," "Go My Way!!" "Idolm@ster," "M@sterpiece," and more due out in Japan this winter.
Watch the trailer for the PS Vita game below. Visit the teaser website here.