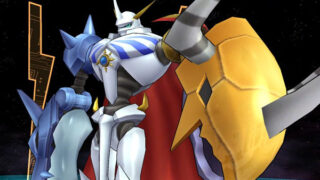 Digimon Story: Cyber Sleuth is coming to North America, Latin America, and Brazil for PlayStation 4 via retail and PS Vita via PlayStation Network in 2016, Bandai Namco announced during its RPG panel at Anime Expo. (Update: A European release has also been confirmed.)
Here's Bandai Namco's official outline:
Digimon Story: Cyber Sleuth is localized and coming in 2016 on PlayStation 4 and digitally on the PlayStation Vita!

Set in the near future, the line between the real and digital worlds is blurred. Logging into cyberspace is part of everyday life. For one teenager, a harmless on-line chat spawns a chance encounter with a mysterious hacker. Little did this teen know, this brief meeting would lead to a digi-monumental adventure.
Watch the teaser trailer below. (Update: View the first English screenshots here.)