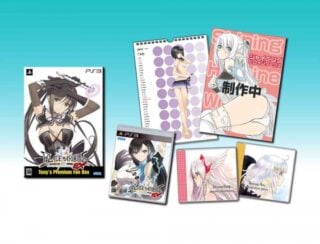 Sega has released the first high-res media for Blade Arcus from Shing EX, its newly announced PlayStation 4 and PlayStation 3 versions of its Shining-themed arcade fighting game.
In addition to some screenshots, also pictured is the game's box art, featuring game-original character Pairon, and the "Tony Taka's Premium Fan Box" limited edition (above), which includes:
A Tony Taka-illustrated special box
"Shining Heroine Works" 40-page art book
Shining Ark character 10-song CD
Shining Blade 60-song soundtrack CD (two discs)
"Shining Beach Heroines" 2016 13-month swimsuit calendar
Blade Arcus from Shining EX will launch for PlayStation 4 and PlayStation 3 in Japan on November 26. First-print copies of the game include the playable character Sonia from Shining Resonance. Visit the game's official website here.
View the new media and box art at the gallery.