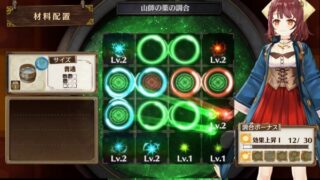 This week's Atelier Sophie: The Alchemist of the Mysterious Book update introduces new characters Monika and Oskar, who are the childhood friends of main character Sophie, an outline of how synthesis is performed, and more about the "Doll Make" customization system for Plachta.
Get the details below.
■ Synthesis

Synthesize items with the recipes you conceive. Using the easy to understand panel, throw in your ingredients and form your items as if you're putting together the pieces of a puzzle.

1) Choose your mixing pot – The mixing pot you choose to synthesize your items is an important tool and the foundation of mixing. There are many different types of pots, and the pot you decide to use will affect the panel size and the effects of the finished product.
2) Choose and throw in your ingredients – From here, toss in your ingredients. Because some items of the same type have different forms, you'll want to choose those that best fit within the panel.
3) Try to get bonuses – If you put the material in a bonus square, you can earn points according to the level of that square and obtain certain effects such as "Quality Up." By taking advantage of your ingredients' forms, you can obtain a number of bonuses and make for an overall better finished product.
4) Choose your bonuses – After you've thrown in all your ingredients, use the points you acquire to grant various effects on the final product. If it's not the effect you wanted, you can go back and redo the putting together of the ingredients.
5) Choose special characteristics – Finally, to raise the effectiveness of the item, choose a special characteristic to complete the synthesis.

■ Synthesis and Recipe Ideas

When you finish a synthesis, you may receive an idea for a new recipe. Whether it's a recipe inspired through collecting materials for synthesis, one conceived during the actual mixing of items, or one thought of when using items you've synthesized in battle, everything is tied to the idea for a new recipe.

■ Aim to Become a Skilled Alchemist

After meeting Plachta, Sophie begins her full-blown study of alchemy. In the beginning, she's rough around the edges when it comes to synthesis and battle, but through the formation of recipes, she'll learn more about alchemy, and Sophie's strong desire to make people happy using alchemy will slowly, but surely become her power.

Sophie will continue to grow as you synthesize items, collect materials, and battle, and eventually…

Before long, Sophie will grow into a Skilled Alchemist, allowing her to take on more difficult syntheses and think up more advanced recipes. And as proof of her achievement, she'll receive a special outfit. But even with these special clothes, Sophie will continue to seek knowledge to further her alchemic skill and bring happiness to all.

■ More About Doll Make

As you further deepen your bonds with Plachta, you can use "Doll Make" to customize and make her stronger. Doll Make is the only way to change Plachta's abilities. Through inserting a variety of items, depending on what kind of items you use, you'll see a big change in her appearance.

You can use four items in the Doll Make formation of Plachta. Although each location has a determined item category, depending on which item you insert within that category, the results can greatly. change. For example, for the "Thread Material" category of items, since there are a number of items within that category, you can try out a variety of combinations.

You'll be able to use the Doll Make system at your studio at any time.

■ Sophie's Companions

Monika and Oskar are Sophie's childhood friends. They were together from an early age and are still together to this day, having Sophie's back as she aims to become a full-fledged alchemist.

Monika Ellmenreich (voiced by Aya Suzaki)

17 years old. 163cm. A church assistant.

Sophie's best friend. She was born to a good family, and as one that excels in both her studies and in fencing, she is a talented woman accomplished in both the literary and military arts. She is both very serious and respectful. As Sophie's childhood friend, even though she's always scolding her, one way or another she looks after her. Monika also enjoys singing and occasionally practices in secret. Although she often visits Sophie to eat sweets together, she always ends up cleaning her house each time.

Oskar Bellmer (voiced by Seiichirou Yamashita)

16 years old. 165cm. A greengrocer.

Sophie's other best friend and the son of a grocer. He's the optimistic type that never pays mind to the little things. He has the special ability to hear the voices of the plants, and thus knows a lot about grass and flowers. Oskar personally likes plants and gets excited when it comes to anything involving them. Due his laziness, he's not good at exercising, and although he possesses unsubstantiated confidence, he falls into a slump when he's denied.

■ Artist News

Rurutia will be in charge of the game's opening and ending themes.

Other artists also featured include:

Ami
Anna Okazaki
Haruka Shimotsuki
Tnynwald Music
Tsukiko
Atelier Sophie: The Alchemist of the Mysterious Book is due out for PlayStation 4, PlayStation 3, and PS Vita in Japan on September 25.
View a new set of screenshots at the gallery.