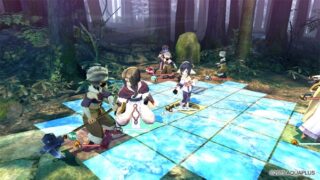 Aquaplus has updated the official website for Utawarerumono: False Mask detailing the game's adventure and simulation parts.
Get the details below.
Adventure Parts

During these parts, the game's story will progress through dialogue with other characters. You may be asked about your destination on the way, and various events can occur based on the destination.

Simulation Parts

From adventure parts, you'll go into battle-based simulation parts.

Before the Battle – Before the battle, select the characters that you want to participate. Depending on the stage, some characters might already be decided.
Battle – Characters perform actions in turn-based battle, going around starting from characters with high agility. Players should utilize each character's attributes and strong points while proceeding to guarantee a successful battle.
Battle End – The battle ends when the player meets the conditions set for victory. When the end of a battle is reached, the characters that participated will be given experience points, as well as additional bonus points.
Utawarerumono: False Mask is due out for PlayStation 4, PlayStation 3, and PS Vita in Japan on September 24.
View the screenshots at the gallery.