The Tomorrow Children launches this fall
New trailer shows what life is like in the game world.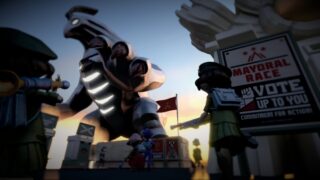 The Tomorrow Children will launch for PlayStation 4 this fall, Sony Computer Entertainment and Q-Games announced.
Q-Games has been adding "tons of new features previously unseen in trailers and the closed alpha" last fall, as well as "enriching the story and setting." This includes "strange and magical tools, cute and unique clothing, and bizarre and imposing structures."
In The Tomorrow Children, players take on the role of a "Projection Clone" as humanity claws its way back from the brink of extinction. The E3 trailer, posted below, shows what a glimpse of life in the game's world is like. Players will control the fate of their town and the world itself as they expand it from a nearly empty outpost into a lively home filled with shops, facilities, and more, all while defending it from invaders.
Watch the E3 trailer below. View a new set of screenshots at the gallery.