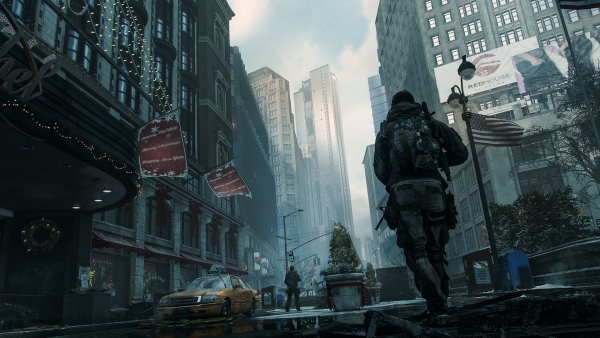 The Division will launch for PlayStation 4, Xbox One, and PC on March 8, 2016, Ubisoft announced at its E3 press conference.
In North America, the game will ship in two special editions:
The Gold Edition will include the game, an exclusive National Guard Gear Set and the Season Pass with a full year of major expansions and exclusive benefits.
The premium Collector's Edition will include all the content found in the Gold Edition plus an array of exclusive memorabilia including the Agent Watch Replica.
The game will have betas across all three platforms early next year. Details can be found at the game's official website. Pre-ordering guarantees access to the beta.
Here are some details:
A devastating pandemic sweeps through New York City, and one by one, basic services fail. In only days, without food or water, society collapses into chaos. The Division, an autonomous unit of tactical agents, is activated. Leading seemingly ordinary lives, these agents are trained to operate independently in order to save society. Team up with other players to investigate the source of the virus and reclaim the city from the overwhelming turmoil.

In Tom Clancy's The Division, discover a hostile and dynamic environment where exploration and player progression are essential. Not bound by a specific class, players can change their load-out at any time to fit the needs of the situation, personal playstyle preferences or to complement the choices made by up to three other specialized agents on their team.

Players can upgrade their weapons, gear and skills to fight through a city where danger can come from anywhere, anyone, and at any moment. Revealed at E3, players can enter the most dangerous part of the Big Apple in the Dark Zone, an abandoned quarantine district that provides a suspenseful multiplayer experience with emergent gameplay, unique encounters and legendary loot. Within this zone, players can collaborate with other agents or attack them to steal their hard earned loot.
Watch the latest trailer and gameplay below. View a new set of screenshots at the gallery.
The Comeback Trailer
Dark Zone Trailer
Gameplay