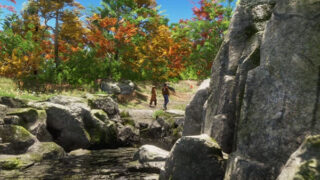 Sony Computer Entertainment is a partner with Yu Suzuki and Ys Net on the development of Shenmue III, SCE Third Party Productions boss Gio Corsi announced on the PlayStation official E3 live stream.
"Absolutely," Corsi said when asked if Sony is involved. "First off, Shenmue III was the number one ask on the whole #BuildingTheList campaign, so when that first started, right off the bat, 'Shenmue III, Shenmue III, Shenmue III.' So this has been an ask for as long as I've been at PlayStation. And we met with Suzuki-san at GDC last year and we started the long road to try and figure out how we were going to get this whole thing made.
"We said, 'the only way this is going to happen is if fans speak up,' and we thought Kickstarter was the perfect place to do this. So we set a goal for $2 million and if the fans come in and back it, then absolutely, we're going to make this a reality. So, Sony and PlayStation are definitely a partner in this game, and it's going to be run through Third Party Productions with Ys Net. We're going to get the game done. We're going to be partners the whole way, and we're really excited to see this thing come out in a couple of years."
Shenmue III reached its Kickstarter funding goal this morning.