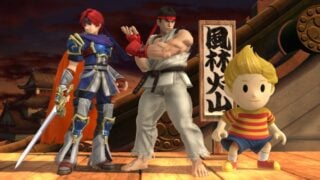 Nintendo confirmed new downloadable content characters Ryu (Street Fighter) and Roy (Fire Emblem) in its "New Content Approaching" live stream this morning. Both characters are available to download now alongside the previously announced Luca (Mother 3) and a plethora of other new content.
The full list of new content available today includes:
New Characters

Ryu + Suzaku Castle Stage (Street Fighter) – $5.99 for Wii U or 3DS individually / $6.99 for both

For the first time in Super Smash Bros. history, a character from the fighting game series Street Fighter joins the battle. Iconic character Ryu, whose look in the game is based on Street Fighter II, brings a new fighting style and feel to Super Smash Bros. for Nintendo 3DS / Wii U. Ryu's traditional Light, Medium and Heavy attacks can be used depending on whether players tap, press or hold the buttons. Classic Street Fighter moves like Hadoken and Shoryuken can be activated with just a one-button press, but players who enter the original button combinations from the Street Fighter series will perform the same actions with higher damage.

Roy (Fire Emblem) – $3.99 for Wii U or 3DS individually / $4.99 for both

A fan-favorite from his last appearance in Super Smash Bros. Melee for Nintendo GameCube, Roy from the Fire Emblem franchise returns to the series more powerful than ever before. Unlike Marth, Roy's sword is stronger closer to the hilt, so he works better in close range. Roy also now has a Final Smash move in the form of a devastating sword blow.

Lucas (Mother 3) – $3.99 for Wii U or 3DS individually / $4.99 for both

As previously announced, Lucas is also available to purchase as a new downloadable character. Originating in the Japan-only Game Boy Advance RPG Mother 3, Lucas primarily uses lightning attacks to smash his opponents.

Mii Fighter Costumes

Prices: $0.75 each (for Wii U or 3DS individually) / $1.15 (for both)

Mega Man Battle Network

Mega Man X

Animal Crossing

Inkling Boy and Inkling Girl (Gunner)
Squid Hat

Virtua Fighter

Jacky Bryant (Brawler)
Akira Yuki (Brawler)

Tekken

Heihachi Mishima (Brawler)

New Stages

Dreamland – $1.99 for Wii U or 3DS individually / $2.99 for both

Based on the first Dreamland stage from the original Super Smash Bros. for Nintendo 64, this stage returns with a few tweaks.

Miiverse (Wii U-only) – Free

This new stage for Super Smash Bros. for Wii U features Miiverse posts created by players all over the world. During matches while connected to the Internet, players will see Miiverse posts appear that cheer specific fighters on from the background. These messages will be pulled from individual Miiverse communities that just opened for each Super Smash Bros. character.

New Trophies

After downloading today's update, in-game bonus trophies based on Ryu and Ken from Street Fighter, Roy, Lucas and Splatoon will be available to unlock in play. Players can collect these trophies by completing All-Star mode in Super Smash Bros. for Nintendo 3DS / Wii U.

Everything

Players who want every fighter, stage, outfit and accessory featured among today's DLC releases can buy them all at once. The whole DLC pack can be purchased in Super Smash Bros. for Nintendo 3DS / Wii U for $21.96, or both game versions together for $29.16.
Nintendo also announced:
Tourney Mode (August 2015)

Scheduled to launch as part of a free update in August, two new Tourney modes are coming to Super Smash Bros. for Wii U and Nintendo 3DS. Community Tourneys let players compete for the highest points in a certain amount of time, while regular Tourneys have a specific set of rules and only happen at select times.

YouTube Replays (TBA)

Coming exclusively to Super Smash Bros. for Wii U at a later date, this free new feature allows players to post replay videos of their matches on YouTube. To use this feature, players must possess a Google account.

New Amiibo

Mii Fighters (Mii Brawler, Mii Swordfighter, and Mii Gunner) are getting their own Amiibo figures. When used in the game, the Amiibo characters can be configured with custom faces and players' collected accessories and costumes.

Four additional Super Smash Bros. characters are also getting Amiibo: R.O.B., Duck Hunt, Mr. Game & Watch and Falco. These new amiibo will be available this September, except Falco who will be available this holiday season.

Eventually, all playable characters in Super Smash Bros. will have corresponding Amiibo figures, including Mewtwo, Lucas, Roy and Ryu.
Watch trailers for today's new characters and Mii Fighter costumes below. View a new set of Wii U screenshots here, and a new set of 3DS screenshots here.
Ryu
Roy
Mii Fighter Costumes