NieR New Project, developed by PlatinumGames, announced for PS4
Teaser trailer out now, more information this fall.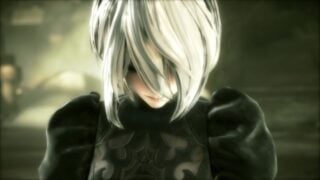 Square Enix has announced NieR New Project, a new NieR game that's a blend of action and RPG-style gameplay currently in early development at Bayonetta studio PlatinumGames exclusively for PlayStation 4.
According to PlatinumGames producer Atsushi Inaba, the goal is to instill new strength in the NieR franchise by leveraging PlatinumGames' specialty: action.
Here's Square Enix's official description:
NieR New Project is a new third-person action role-playing game (RPG) and follow-up to the 2010 cult hit NieR. Offering a fresh blend of action and RPG gameplay styles, NieR New Project is currently being developed in collaboration with PlatinumGames Inc.

The game's all-star development team consists of:

Producer Yosuke Saito (Dragon Quest X / NieR)
Director Yoko Taro (Drakengard / NieR)
Character designer Akihiko Yoshida from CyDesignation, Inc. (Final Fantasy XIV / Bravely Default)
Game designer Takahisa Taura from PlatinumGames Inc. (Metal Gear Rising: Revengeance)
Composer Keiichi Okabe from Monaca, Inc. (Tekken / Drakengard / NieR)
Square Enix will share more information this fall.
Watch the teaser trailer below. Visit the teaser website here.