Metroid Prime: Federation Force announced for 3DS
Four-player co-op Metroid Prime coming to 3DS.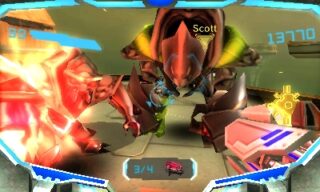 Nintendo has announced Metroid Prime: Federation Force, a four player co-op game where players take on missions set in the Metroid Prime universe for 3DS. It's due out in 2016.
Up to four players can connect online or locally. Players wear mech suits and work together as a team to clear out enemy-infested bases and complete objective-based missions. After completing these missions, up to six players can compete in Metroid Prime: Blast Ball, a three-on-three game first teased at the Nintendo World Championships that requires players to shoot a ball into their opponent's goal.
Get the trailer and fact sheet below. View some screenshots at the gallery.
Metroid Prime: Federation Force

Join a four-player local or online squad in this co-operative sci-fi shooter set in the Metroid universe. Hop in a specialized battle Mech suit and work with your teammates to take down enemy forces and complete objectivebased missions. Then, take a break and play a fun, pick-up game of Blast Ball with fellow troops. Conquer co-op missions in the Metroid universe.

Features

Up to 4 players take on a variety of co-op missions in this first-person, sci-fi shooter set in the Metroid universe
Work together as a team to clear out enemy-infested bases and complete objective-based mission
Take on enemies with a blaster and special sub-weapons
Aim using the Nintendo 3DS system's gyroscope
Join a pick-up game of Blast Ball, a 3-on-3 sci-fi sport in the Metroid universe where players shoot the ball into the opponent's goal to score

Metroid Prime: Blast Ball

Join a pick-up game of Blast Ball, a 3-on-3 sci-fi sport in the Metroid universe. Players shoot the ball into the opponent's goal to score. Throughout the match, players can gain a competitive edge by collecting and using a variety of individual power-ups. Shoot and score in this new sci-fi sport

Features

Blast Ball is a new 3-on-3 sport set in the Metroid universe; and is a mode within the Metroid Prime: Federation Force game
Shoot the ball into the opponent's goal to score; First to three goals wins the match
Battle in sudden death overtime to settle a tie score
Form and execute offensive and defensive strategies with your teammates to move the ball forward or defend against an attacking opponent
Collect and use individual power-ups to temporarily create a barrier, move lightning-quick, or eject opposing players out of their Mech suit
Aim using the Nintendo 3DS system's motion sensing feature
Get friends to join the match by sending the Blast Ball game for free to other Nintendo 3DS owners via Nintendo 3DS Download Play