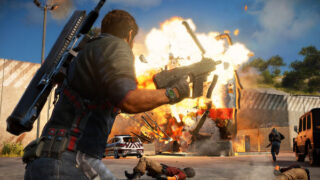 Just Cause 3 will launch globally for PlayStation 4, Xbox One, and PC on December 1, Square Enix announced.
The open-world game features over 400 square miles of complete freedom, a large arsenal of weaponry, gadgets, and vehicles, and stars Rico Rodriguez, who returns to his mother's homeland of Medici to eliminate it of its brutal power-obsessed dictator, who sees global domination as his ultimate conquest. Rico is driven by the desire to return Medici to once-beautiful past.
"Just Cause 3 is one of our most anticipated titles and we're excited to build on everything the community loved about Just Cause 2," said Phil Rogers, CEO at Square Enix. "With a beautiful 400 square-mile sandbox, Just Cause 3 will offer players almost endless hours of creativity, destruction and awe-inspiring stunts this December 1."
Watch a new trailer below.