Gears of War remaster details leaked
60 frames, dedicated servers, Gears 3 multiplayer characters, more.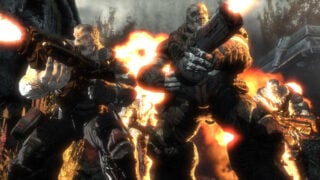 The official Russian Gears of War website has accidentally shared details on the leaked Gears of War remaster for Xbox One.
The details were posted on the Gears of War 3 game page. And as of press time, they're actually still there.
Get the information below.
About

The plot of Gears of War is set in the midst of a desperate struggle of humanity with a horde of locusts – the nightmarish creatures to the surface from the bowels of the planet. Players will be able to feel yourself in the place of Marcus Fenix. Deprived of former honors war hero Marcus longs to redeem, commanding his troops in hot Svatko with fierce enemies from the depths of the planet.

Features

Adapted for Dolby 7.1 Surround
90 minutes of new content for the campaign mode of the original game for the PC
New achievements in Xbox LIVE (player account 1250)
Gallery sketches and comics available to unlock
Streamlined multiplayer mode:

60 frames per second
Dedicated servers
Selection of players for skills
New types of games, "Team Fight", "King of the Hill" (in the style of Gears of War 3) and the new 2 2 Destruction "Gnasherom."

19 cards, including downloadable content and exclusive cards from the PC version
The ability to gain access to the 17 characters of Gears of War 3 multiplayer games
New features match the settings, including the choice of parameters of the active charge, renewal, revival and the emergence of an independent arms.
Streamlined gameplay more fluid movements and updated management system:

Alternative control system and a brand new control scheme tournament
All the control parameters are adapted for the Xbox One
Added features from your favorite Gears of Wars 3: Marking enemy targets, the use of the device in a multiplayer game, improved sensitivity setting.

Release date of the original game: August 25, 2015

Platform: Xbox One
The Gears of War remaster is expected to be officially announced during tomorrow's E3 Microsoft conference.
Thanks, NeoGAF.