Fire Emblem Fates has online multiplayer
Six maps available by default, as well as your My Castle map.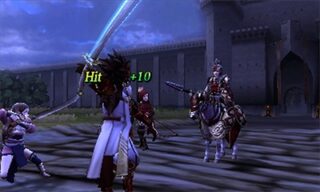 Fire Emblem Fates launched for 3DS in Japan today. And it has a pretty big feature Nintendo didn't announce prior to release: online multiplayer.
Online matches consist of five-versus-five batttles with a team of units selected from one of your save files from any point in the game. You can play online with players on your friends list, with random players, or locally. Random battles can be played with standard rules or with limitations to eliminate the effect of Eternal Proofs and other items. There's no fog of war, and the time is limited to five minutes per turn.
Five maps are available in multiplayer by default: "Mountain Village," "Opera House," "Destroyed City," "Crumbled Fortress," and "Palace." Eac has Dragon Vein mechanisms and some have destructible objects. In addition to these, you can also use either player's "My Castle" map as a map.
Serene Forest has a bit more of the more technical details.
Fire Emblem Fates is due out in North America and Europe in 2016. If you missed it at E3, catch the latest trailer here.