Etrian Odyssey 2 Untold 'Grimoire Stones' trailer
Equip Grimoire Stones to use new skills.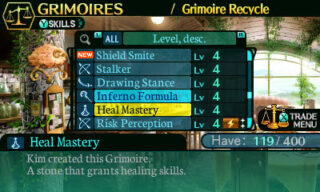 Atlus has released a new trailer for Etrian Odyssey 2 Untold: The Fafnir Knight detailing the game's Grimoire Stone system.
"Completely overhauled" from the first game, the Grimoire Stone system in Etrian Odyssey 2 Untold lets players equip, trade, and recycle Stones via Regina in the cafe. Grimoire Stones are equippable items that grant the user new skills, even enemy ones. You can trade Stones with passing explorers in the cafe, or you can recycle them for new Stones.
Etrian Odyssey 2 Untold is due out for 3DS in North America on August 4 and in Europe on February 12.
Watch the new trailer below.