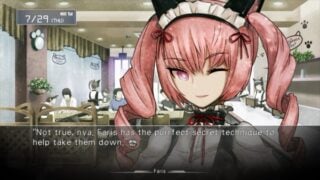 PQube Games has released a new trailer and screenshots for Steins;Gate, introducing the characters of the science fiction visual novel.
Introduced in the trailer include:
Okabe Rintaro – Eccentric, self proclaimed mad scientist and founder of the 'Future Gadget Lab' – a small group of friends who have an ambition of overthrowing the rule of the world.
Mayuri Shiina – Okabe's long-time friend, Mayuri enjoys creating cosplays and works part time at a maid café. She is always cheerful and positive – greeting everyone with a friendly 'tuturu!'
Itaru Hashida – An experienced computer programmer, super-hacker and Otaku, his affection for Faris can often lead him say crude and inappropriate things out loud.
Makise Kurisu – An extremely talented neuroscience researcher at an American University, Kurisu is drawn into Okabe's world because of her scepticism of his experiments.
Faris Nyannyan – The most popular waitress at the Maid Café 'Mayqueen Nyannyan' and a mean RaiNET player, she is very much the object of Itaru's affection.
Moeka Kiryu – A mysterious and shy young woman, Moeka rarely speaks – instead preferring to communicate through text messages, even if her friends are in the same room.
Suzuha Amane – Athletic part-time assistant at the workshop belonging to Okabe's Landlord, Suzuha has a keen interest in Okabe's work. She enjoys riding her bicycle.
Luka Urishibara – Shy and feminine, Luka is often mistaken for a girl. As a result he is incredibly self conscious and unsure of his true feelings.
Steins;Gate is due out for PlayStation 3 and PS Vita in Europe on June 5. A North American release date has not yet been announced.
Watch the trailer below. View the screenshots at the gallery.