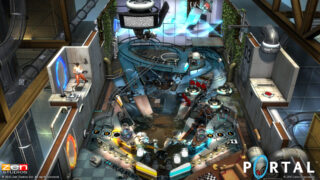 Portal Pinball is coming Zen Studios' pinball games, the developer announced.
That's pinball themed after Valve's Portal first-person puzzler, of course.
"Guide Chell and Wheatley through test chambers by navigating portals, using aerial faith plates, defeating turrets and facing other obstacles, and battling against GLaDOS as you attempt to escape the facility and reach the surface," Zen Studios detailed on the Zen Studios Blog. "Team up with ATLAS and P-Body for their Cooperative Testing Initiative Multiball and wreak havok on the Turret Factory by discovering Ratman's hidden mini playfield."
Portal Pinball will launch for "Zen's pinball platforms" next week for $2.99 on consoles and computers, and $1.99 on mobile platforms. We take it that includes Zen Pinball 2 (PlayStation 4, PS3, PS Vita, Wii U, and Mac), Pinball FX 2 (Xbox One, Xbox 360, PC), and Zen Pinball / Zen Pinball HD (iOS, Android, Amazon).