New Dr. Mario launched for 3DS in Japan
Available for 880 yen via the Nintendo eShop.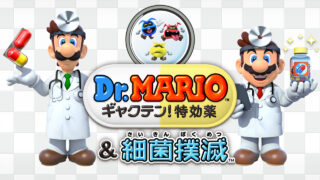 Nintendo announced Dr. Mario Gyakuten! Tokkouyaku & Saikin Bokumetsu (Dr. Mario Reversal! Special Medicine & Germ Buster) for 3DS during its Nintendo Direct this morning.
The game, out today in Japan via the Nintendo eShop for 880 yen, offers Dr. Mario, Dr. Luigi, and touch-based Germ Buster modes. The former two modes offer new "Special Medicine" items that prove helpful in a pinch (i.e. too many capsules have stacked up). A new item is provided each time the gauge on the right side of the screen builds up. Players can also battle friends online and locally via download play.
Watch the debut trailer below.