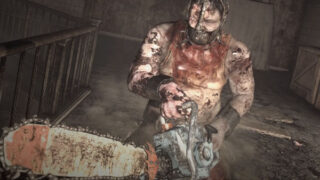 Bethesda Softworks and Tango Gameworks have released the official gameplay trailer for The Evil Within's May 26-due "The Executioner" add-on.
Here's the rundown, via Bethesda:
The Executioner places players in a series of battle arenas all from the first-person perspective of The Keeper. Initially armed with The Keeper's signature hammer, players will fight against a host of The Evil Within's iconic villains to earn new weapons and upgrades. Set in the Manor House of the Victoriano Estate, The Executioner features first-person melee combat combined with exploration and discovery as players unearth the story of a man forced to become The Keeper.
The add-on, The Evil Within's final downloadable content, will cost $4.99 when it launches. It is also part of the game's $20 Season Pass.
Watch the trailer below.