Ar nosurge Plus coming west in July
Koei Tecmo confirms localization for updated PS Vita release.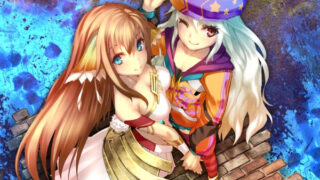 Ar nosurge Plus: Ode to an Unborn Star will come to PS Vita via digital download in North America on July 2 for $39.99 and in Europe on July 1.
The "7-Dimension RPG," an update to the original PlayStation 3 game, includes new costumes, "Purification" partners, and some downloadable content pre-loaded on the game cartridge. There's also dual audio (English and Japanese).
Get the full rundown below.
About

Ar nosurge Plus: Ode to an Unborn Star is a fantasy, sci-fi, '7-Dimension' RPG that takes place in a world where music and song can create magic. It tells the compelling story of a civilization that lost their planet and has been roaming the edge of space for 2000 years in search of a new home. The player follows two sets of characters: Delta and Casty, whose goal is to protect humanity and save the world, and Ion and Earthes, who are trying to find Ion a way home to Earth. The player can change between both pairs and discover a way to combine their storylines and strengths to eventually solve the mystery that shrouds their on-going struggles.

Updates from the PlayStation 3 version

New Costumes

New costumes for the four main characters (Delta, Earthes, Casty, and Ion)
Beat the game to unlock even more costumes for the above four characters
New "Purification" costumes for the additional characters

New "Purification" Partners

Sarly, Nelo, and Shurelia can be selected as conversation partners during Purification.

DLC Additions

Some DLC available from the previous version comes pre-loaded!

Updates and Balancing

Full featured tutorial
Synthesis Shop Events viewable from menu
View the first set of English screenshots at the gallery.
Update 2:27 p.m.: A limited physical version is planned for North America.