Tokyo Xanadu screenshots introduce Sora
Plus, more details on the Tokyo Earthquake and Morimiya High School.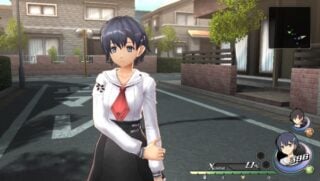 Following her introduction in Dengeki PlayStation this week, Falcom has gone up with the first direct-feed screenshots and additional information on new character Sora Ikushima, the Tokyo Earthquake, and Morimiya High School.
Sora Ikushima (CV: ???)

15 years old. A first-year student at Morimiya High School and a member of the karate club. She is a pure and serious person, and a junior to protagonist Kou. With her father as her instructor, who possesses the old school "Ikushima Style" of karate, she showcased a gifted ability in the martial arts from a young age. Taking her father's teachings to heart, which say that the young should seek to broaden their knowledge and find their own places to train, she leaves her hometown of Kyushu when high school rolls around and heads for Tokyo as a boarding student. In an effort to broaden her knowledge, she leaves her hometown of Kyushu and heads for Tokyo as a boarding student. Though her discipline in her karate training at the club remains unwavering, rifts start to emerge between her and the senior members she was once friendly with due to the uniquely strong influence of the other dimension, as well as her pure, front-facing demeanor.

Tokyo Earthquake

Ten years ago, an earthquake struck Tokyo. It was March 15, 2005 at 11:38. The sky was scarlet red and without clouds. The 7.5 magnitude earthquake struck without prior notice throughout all of Tokyo. Aftershocks continually followed, and fires and tsunamis, in addition to toxic gas breaks underground, tornadoes, thunder, and cold waves struck multiple areas. 20,200 died and 7,000 people are still missing. The earthquake struck Tokyo, but cast a dark shadow over the entirety of Japan. A five year reconstruction plan following the disaster gave the city a more reinforced urban infrastructure, making the disaster seemingly well and truly a thing of the "past."

Morimiya High School

Attended by Kou, Asuka, and Sora, Morimiya High School is a historic mixed gender high school. From Morimiya Station, which is located at the center of Morimiya City, the school is within walking distance. The area's condition is not bad.

The main school building is made up of classrooms for its first to third year students, while the second building includes the library and various special classrooms. A Clubhouse building is made up of the sports clubrooms, the cafeteria, an indoor swimming pool, and other facilities.
Tokyo Xanadu is due out for PS Vita in Japan later this year.
View the new screenshots at the gallery.