Senran Kagura 2: Deep Crimson coming west this summer
3DS sequel adds pair battles, co-op mode, more.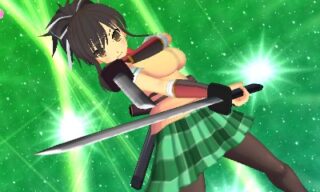 Senran Kagura 2: Deep Crimson is coming to North America, Europe, and Australia this summer, XSEED Games and Marvelous Europe announced.
In North America, the game will be available both as a digital release via the Nintendo eShop, as well as via a limited run "Double D" retail release which will include a two-disc soundtrack.
In Europe, the game will be available via the eShop, as well as at retail via a five-version pre-order campaign:
Senran Kagura 2 at a discounted price

The standard physical edition of Senran Kagura 2

A physical copy of Senran Kagura 2: Deep Crimson
2 Disk Official soundtrack featuring selected music from SENRAN KAGURA 2:Deep Crimson
Exclusive Hanzo & Hebijo symbol stickers
Exclusive fold out poster
'Happy Boobs' Edition box

All the extras in the 'Happy Boobs' edition
Exclusive oppai mouse mat (with 3D boobs)
Shinobi Certificate
Unique Shinobi Collector's Edition box

Everything from the Shinobi Collector's Edition
Shinobi Certificate signed by Senran Kagura series creator Kenichiro Takaki
Here's a full rundown of the sequel, via the game's official website:
About

Senran Kagura 2: Deep Crimson is the latest Nintendo 3DS title in the infamous Senran Kagura franchise. For those who aren't familiar, expect a fast-paced beat 'em up game with insane combo chains, plenty of playable characters, hilarious cutscenes and an abundance of tantalising action!

The game picks up directly where its Nintendo 3DS predecessor Senran Kagura Burst left off, and follows the Hanzo & Hebijo Shinobi Academies as they battle for good and evil respectively. This time however there is a greater evil at work, as the tyrannous tycoon behind the Hebijo Academy is hell-bent on raining terror across all of Japan by utilizing a destructive army of summoned demons! This great danger thrusts the girls together and forces them to unite and work as one in a way the series has never seen before.

Features

In addition to the epic narrative, Deep Crimson takes the Senran Kagura Nintendo 3DS franchise to whole new levels in terms of gameplay and extra features. There are a plethora of upgrades, including:

Pair Battles – For the first time ever, two shinobi warriors from opposing academies must fight together, and the dual character combo system allows for spectacular and devastating joint attacks.
Improved graphics and stellar audio – The graphical improvement from 'Burst' is dramatic, with full 3D environments, improved animations and a better framerate! This is combined with original Japanese voice-overs to create a gorgeous experience all-round.
Local & Nintendo WiFi Co-op mode – For the first time on Nintendo 3DS, two players will be able to join forces and play the story or special missions together via ad hoc multiplayer or online.
Improved Dressing Room – The dressing room is stocked with hundreds of items, and this time up to two shinobi can be present in the dressing room at once! Also, for the very first time in the series you can pose the girls in a variety of positions, and even pose them in real life environments using the Nintendo 3DS' built-in camera!
In addition to the game, XSEED and Marvelous are also planning to release three separate add-on bundles post-release. The publisher tease, "If you've followed the Japanese version closely you'll know they are something special."
Watch the opening movie and a new gameplay trailer below. View a new set of screenshots at the gallery. Visit the game's official website here.
Opening Movie
https://www.youtube.com/watch?v=ksmlW47Mp6I
Gameplay Trailer
https://www.youtube.com/watch?v=OXKHoSuPpdU
Announcement Trailer