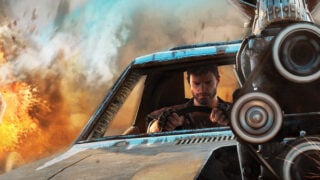 Mad Max will launch for PlayStation 4, Xbox One, and PC on September 1 in North America and September 4 in Europe, Warner Bros. and Avalanche Studios announced.
The previously announced PlayStation 3 and Xbox 360 versions are no longer.
Pre-orders for Mad Max include an additional Magnum Opus car body called "The Ripper," which packs a V8 engine, upgraded exhaust with custom off-road tires, grill, and a tuned suspension.
Mad Max is also the cover story of the latest issue of Game Informer. The magazine got several hours of hands-on time with the game and its 12-page story covers its impressions, as well as the game's car combat, story, and characters.
Watch Game Informer's coverage trailer below.