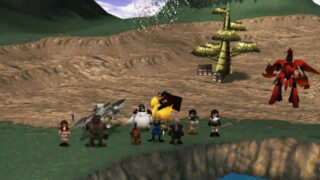 Rodensoft, an independent developer based in Aomori, Japan making games and web projects for Japanese and English speaking markets, was working a fan-made sequel to PSone's Final Fantasy VII… for PSone.
A purely personal project, the sequel started life as a modification, but has since turned into a proof-of-concept, existing only to "demonstrate how much power even the original Final Fantasy VII PSone engine has." Development is not ongoing, as Rodensoft explains, "it's a full time job and the scripting tools, while great, are quite restrictive compared to real coding." The studio is now working on an original RPG based on the Unreal Engine.
Final Fantasy VII: Time Guardian took the original world of Final Fantasy VII and added a plethora of new features, including a day-and-night system, time-based world, resource mining, house ownership, repeatable quests, switching between characters and teams, and a faction/karma system.
The story began at the Temple of the Ancients, in which the Time Guardian sets a trap for Cait Sith, who was taking the Black Materia, and scrambles time so that events from the beta and Ultimania concepts of Final Fantasy VII take place. Each character would forget each other and start in locations across the world meaningful to them (for example, Yuffie near Kalm, Barret in Corel, etc.), eventually meeting each other in set circumstances.
We've detailed some of the planned features below:
Day & Night System with Random Weather – Enemies at night can be far more dangerous.
Upgraded PHS – Check the time anywhere with a calendar system made up of months and years.
NPC Schedules – NPCs will do different things depending on the time of day, offering more dynamic gameplay.
"Change" System – Change the party leader at any time. If you're bored with the current quest, you can freely change to another character within the PHS. Characters will remain where you last left them. If you switch between two characters in the same area, you'll see the character you just left behind.
Time and the World – Shops and houses will open and close, and sounds and music will change, depending on the time of day. Time is calculated after battles and the world map.
Games – You can buy games like "G-Bike," "Snowboard," and "Torpedo Attack" for your PHS, which you can play to pass time in the game world.
Team System – Players will be able to form multiple parties, up to three teams of two or three characters. Your team members will follow you on the field.
Randomized Dungeons – Self-explanatory.
Open-World – An open-world spanning nine CDs, one for each character (this sounds like it was a bit ambitious, but the developer notes the PSone had support for up to nine unique CDs). The world features things like "well-used paths," which are a "slightly safer" way to travel the overworld.
Field Skills – Extract resources and blow up doors (Barrett), pick locks and ninja jump (Yuffie), levitate (Vincent), etc.
A video of the concept was released yesterday, which we've embedded below. If you have any more questions about what was planned, the developer seems to be answering comments on YouTube, as well as in this Qhimm topic.
https://www.youtube.com/watch?v=l1Y3snhd_bg