Gal game Song of Memories announced for PS Vita
Summon the girls from smartphone game Dream 4 You.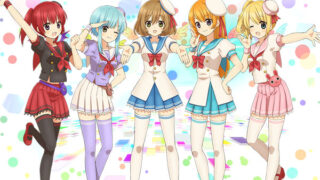 Famitsu this week reveals "Pure Wish," a new game brand of FTL Entertainment focused on the production of gal games. Its first title is Song of Memories, an adventure title for PS Vita.
Due out in Japan during spring 2016, the game involves a mysterious virus that only infects women. In this world, the infected begin their invasion as a "new breed of humans." The story revolves around the protagonist and the game's heroine(s), who may have been infected with the disease.
Song of Memories is a gal game depicted in an adventure game-like style, but players will also be able to enjoy RPG-like battles while listening to songs. During battle, you'll even be able to summon the five girls from the smartphone game Dream 4 You (pictured).
Development is currently 15 percent complete. The game is produced by Yasuo Omote and features character designs by Hajime Shigeno.
Thanks, Hachima Kikou and Otakomu.