Xenoblade Chronicles X footage introduces world, Japanese Wii U bundle announced
Wii U bundle includes game, Nintendo card, map, and art book.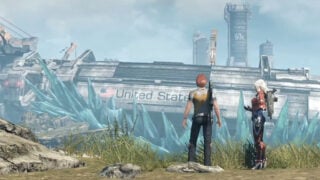 Nintendo detailed the world of Xenoblade Chronicles X during a 24 minute-long Japanese live stream this morning.
The game is set on Mira, an uncivilized planet on which players crash land. Mira is made up of five continents: "Primal Wilderness," "Luminous Forest," "Forgotten Canyon," "White Tree Continent," and "Black Steel Continent." On this planet, the city of New Los Angeles is established. It consists of industrial, commercial, residential, and military areas.
In the video, you'll get a look at the game's basic systems and exploration, including the "Navigation Ball," which guides players to their next destination, and the "Hopper Camera," which lets you see your surroundings from an aerial perspective. Players will be able to freely travel across land, air, and sea, walking to places accessible on foot, or using the Doll mecha to access areas otherwise inaccessible.
Towards the end of the live stream, Nintendo announced a Wii U bundle including a copy of Xenoblade Chronicles X, an original design 1,000 yen Nintendo pre-paid card, a map of the game, and an art book will be released alongside the game in Japan on April 29 for 35,000 yen.
Additionally, the company confirmed that users who prefer the digital version of the game will be able to pre-load the game before release. Pre-orders begin today on the Japanese Nintendo eShop. (Update: The pre-order for the game confirms the game will have four-player online quests, as well as 32-player indirect online for information exchange and item trading.)
Outside of the Wii U game, Ninendo launched the official website for Xenoblade Chronicles 3D this morning, confirming the New 3DS port of the Wii-released original will include Amiibo support.
Watch the video below.
https://www.youtube.com/watch?v=6tpzCdnCFNM