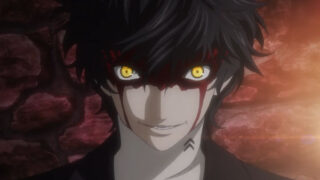 Read more: Comments from director and producer Katsura Hashino
Atlus debuted the first gameplay trailer for Persona 5 during its Persona Super Live 2015 concert at Nippon Budokan in Tokyo this evening.
The trailer introduces the protagonist as the mysterious Phantom character from today's Yomiuri Shimbun advertisement, as well three additional characters: the blonde guy Ryuji Sakamoto, the girl Anne Takamaki, and a cat named Morgana. Gameplay scenes include everyday life, menus, dungeons (where we see stealth and jumping elements), and battles (where we see each character don their own masks). The trailer ends with what looks like the protagonist transforming into his Persona.
First-print copies of Persona 4: Dancing All Night will include a Persona 5 Special Movie Blu-ray disc containing special video of the game.
More information is expected in next week's Famitsu magazine.
Watch the trailer below. Visit the game's official website here.