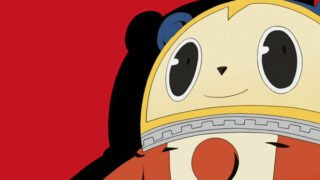 Atlus' 30 hour-long Persona live stream, dubbed "News Flash! Persona Channel 2015," will begin shortly (13:00 Japan time).
The broadcast will begin with an introduction from everybody's favorite bear, Teddie, and throughout play host to the latest Persona series news. Expect updates on Persona 4: Dancing All Night and Persona 5, and potentially some surprises.
Find our live stream re-host and the full stream schedule (all times JST) below.
(Stream over. Catch the recap in the schedule below.)
(Stream also available on p-ch.jp. If you miss anything on the time schedule, YouTube user Minato Arisato is uploading each one on this playlist.)
February 4 (Niconico live stream)

February 5 (Niconico live stream)

00:00 – Persona 5 image teaser appears.
12:30 – ??? (Unannounced) – Revealed: Persona Super Live Newscast.
13:00 – Top 25 Persona Songs (Repeat)
15:00 – Persona 4 Golden Vita the Best version launch commemoration special (Repeat)
17:00 – ??? (Unannounced, Repeat)
18:00 – Final countdown commencement with Teddie
18:?? – Persona Stalker Club: Nippon Budokan Special – Join hosts Tomomi Isomura and Mafia Kajita as they host a special episode of the Persona-themed variety show live online. In addition to the usual segments, viewers can expect to find the latest Persona news coming out of this episode. (Persona 4: Dancing All Night release date announced.)
21:?? –

?????

(Unannounced, though it's worth noting the description features five red question marks) – Revealed: Persona 5 debut gameplay trailer.